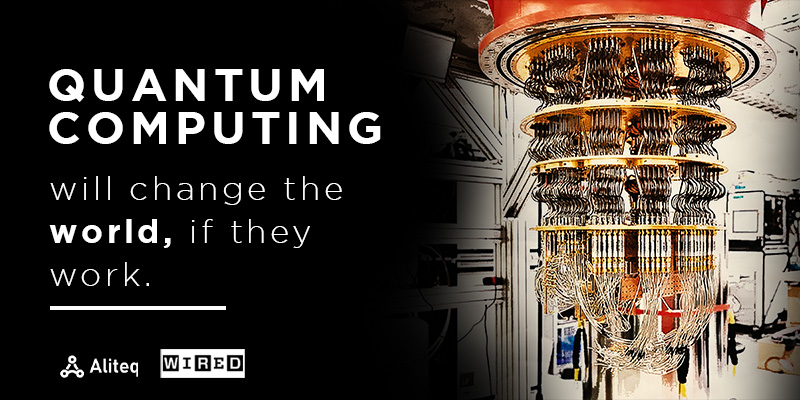 We live in the new Era of technology, but that's not enough innovations that a human mind can done.
In recent years, large companies have been thinking to take a very vital step forward in quantum computing, which looks set revolution to the world as we know it.
As the data is getting big day by day. The BigData also let scientist to think over the methods of computation to manage this data easily with great efficiency. This can only be done by using more powerful computers than today for the best results with maximum accuracy and speed i.e. Quantum computer systems.
In 1998 Isaac Chuang of the Los Alamos National Laboratory, Neil Gershenfeld of the Massachusetts Institute of Technology (MIT), and Mark Kubinec of the University of California at Berkeley created the first quantum computer (2-qubit) that could be loaded with data and output a solution.
A few months ago, IBM announce the first quantum computer, the Q System. For newcomers to this computing pattern, IBM explained that the quantum computer could solve a set of much more complex calculations.
What is Quantum Computing?
This branch of computer science is based on the principles of the superposition of matter and quantum entanglement by using unique and different computation method from the traditional computers.
A quantum computer is any device for computation that uses the quantum mechanical phenomena, such as superposition and entanglement, to perform operations on data.
WHAT IS A QUBIT?
QUBITS, the Basic unit of Information of Quantum computing.Just like bits.
Why Qubit are better than bits?
Qubits are more useful than bits because they can store more information as compared to bits. This allows quantum computers to do certain calculations much faster than classical/traditional computers.
It would be able to operate with much more efficient algorithms at the numerical level, such as quantum annealing.
HOW QC WILL CHANGE THE WORLD
Some fields that may bring a huge revolutionary change by the advances in quantum computing.
Some of them are mention below:
BENEFITS IN HEALTH SECTOR:
Well research of DNA will be done, new development of drugs and customization of genetic treatment.
It provides Facility of fraud detection, simulation system and optimization of investment portfolios.
BENEFITS IN CYBER SECURITY:
Quantum programming also advances in data encryption such as the new Quantum Key distribution system.This Technology sends sensitive information that uses light signals to detect intruders in the system.
BENEFITS IN TRANSPORTATION:
It provides the best possible technique to make more efficient aircrafts and also helps in traffic planning systems and route optimization for road transport.
THE BEST QUANTUM COMPUTER?
China
A team of Chinese scientists has developed the most powerful quantum computer in the world, capable of performing at least one task 100 trillion times faster than the world's fastest supercomputers.