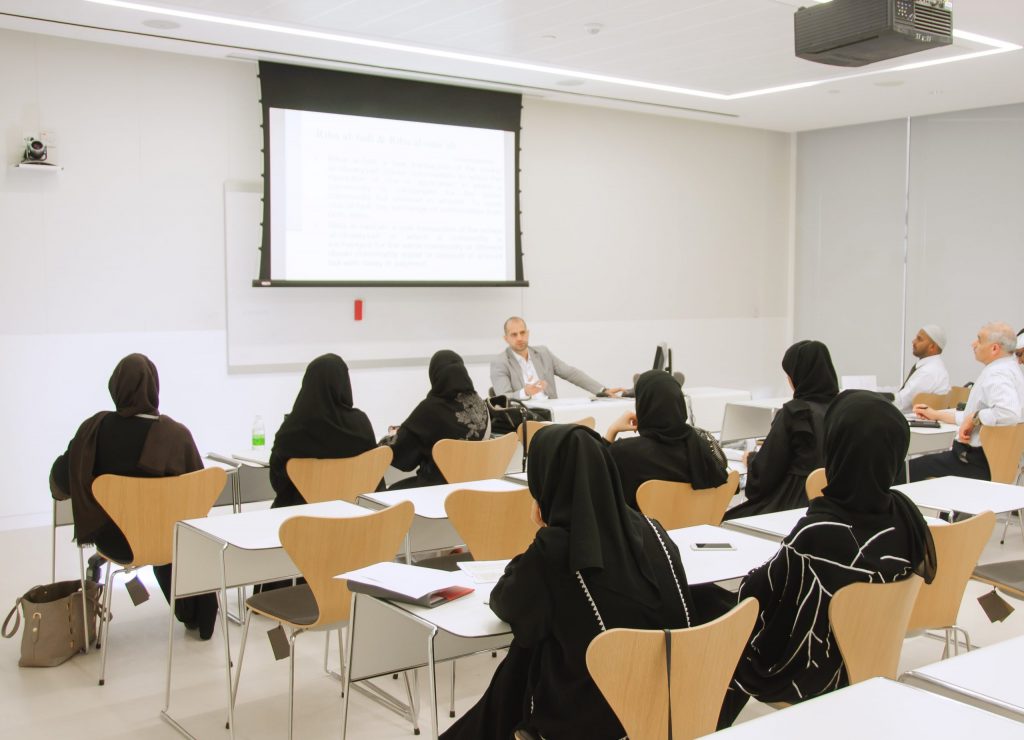 Now students can apply online their applications for Ehsaas Undergraduate scholarship program through online portal. If you want to know how to apply Ehsaas undergraduate scholarship. you must follow steps that are given below.
Special Assistant to prime Minister on poverty alleviation and social safety announced the online portal via her Twitter account
scholarship includes a 100 percent tuition fee waiver and monthly assistance allowance of 4,000.the last date to submit the applications is 30th October 2020
Who Can Apply?
Students whose family income is less than Rs. 45,000 rupees per month
Scholarships are available for students of four-year or five-year undergraduate programs
Students from 125 public sector universities across the country, including Azad Kashmir and Gilgit Baltistan.
How to Apply for Ehsaas Undergraduate Scholarship?
The online application process is fairly simple. Here's how you can apply for Ehsaas Undergraduate Scholarship program:
Visit the online portal by clicking this link:
Sign up to the portal by providing your details, including:

CNIC/B-form/Passport number
First and last name
Nationality
Password
Cell phone number
E-mail address

After entering the details, a One Time Pin (OTP) will be sent to your e-mail address and your cell phone. Enter the OTP to get yourself registered.
Once you have registered, log in to the portal by entering your CNIC/B-form/Passport number and password.
Once logged in, click on 'apply now'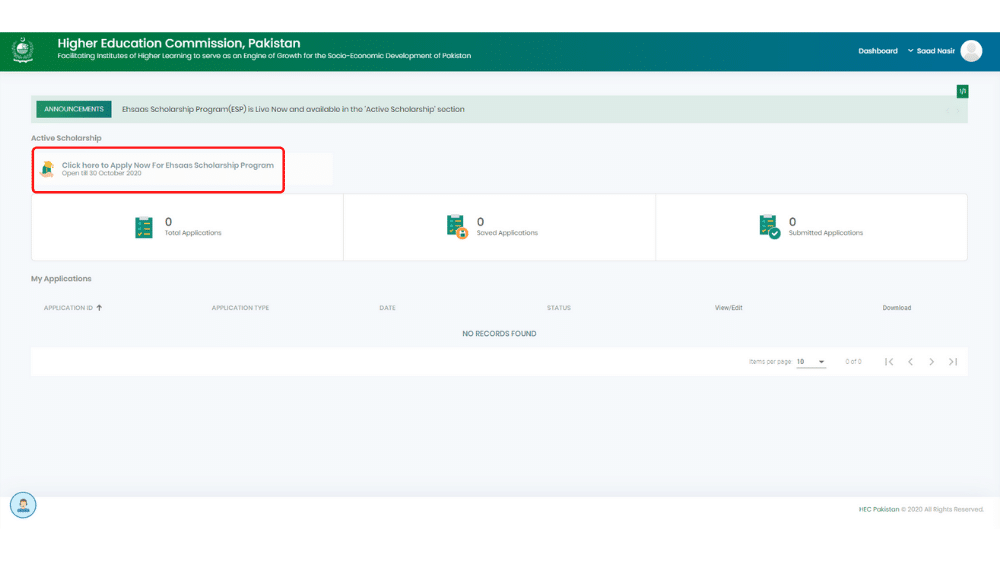 Read all the instructions and scholarship guidelines before starting the application process.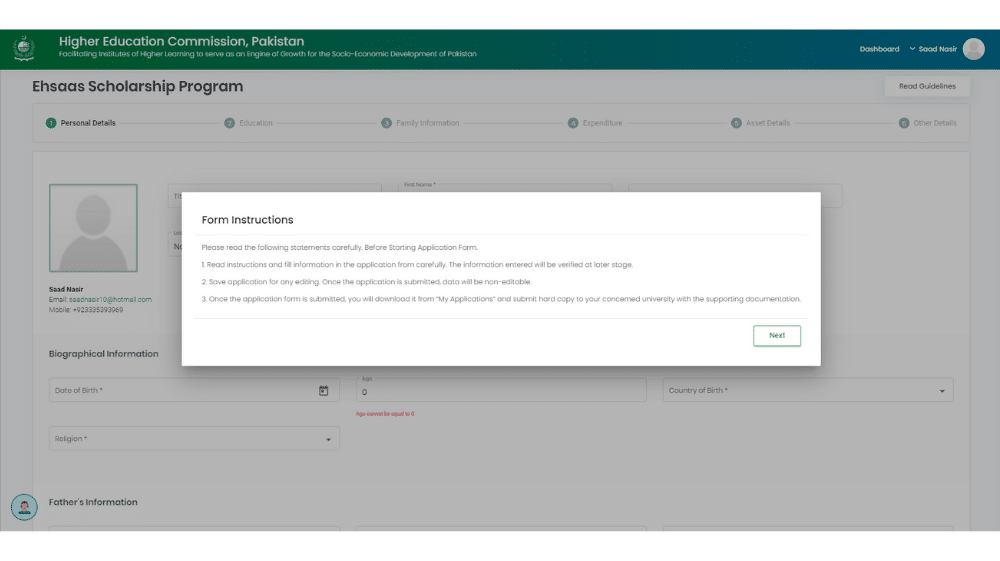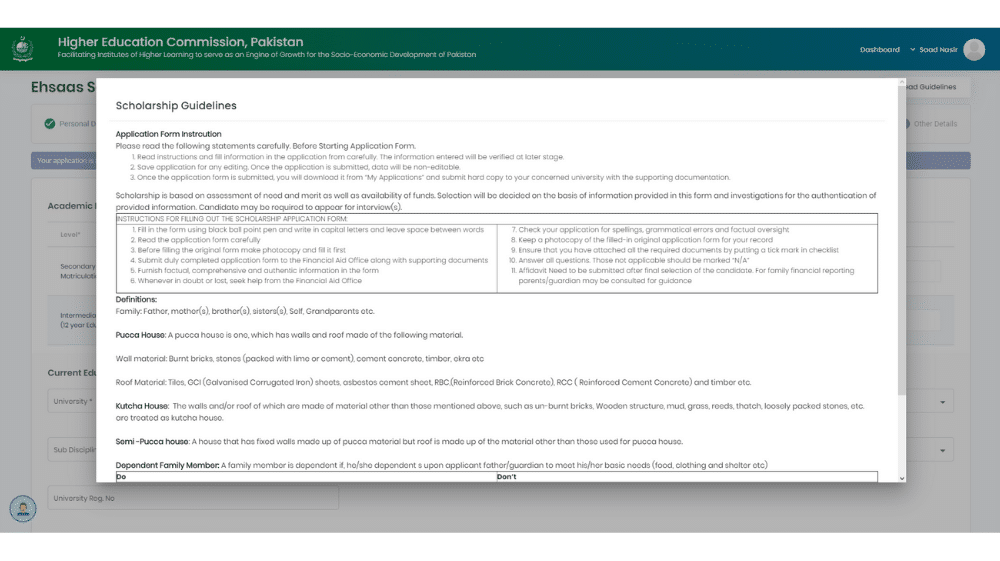 Enter your personal details and profile picture in the first part of the application process
Move onto to the 2nd part and enter your educational details
In the 3rd part, provide your family details, including earning family members and dependent family members. Also, provide all the required details about family's source of income.
Provide your family expenditure details in the next part, including utility bills and house rent, etc.
Insert your family's asset details in the 5th part, including houses, business, property, etc.
In the last part of your application, provide other details including previous scholarships, and a statement of purpose, etc.
After filling out the application form, click on the submit button
After submitting your application, print out the filled application form and attach the supporting documents to submit its hard copy to the Student Financial Aid Office of the university. The following are the supporting documents required:
| | |
| --- | --- |
| 1 | Copy of applicant CNIC /B. Form |
| 2 | Copy of CNIC (Father, Mother/ Guardian) |
| 3 | Salary Slip / Income Certificate (Father/Guardian, Mother) |
| 4 | The undertaking of Income Certificate on stamp paper of Rs. 50/- or more (in case if your father is a laborer on daily wages/shopkeeper/private job) |
| 5 | Copies of the last six utility bills (Electricity, Gas, Telephone, Water) |
| 6 | Copy of rent agreement in case you have a rented house |
| 7 | Copies of last fee receipts of applicant and siblings |
| 8 | Copies of medical bills/expenditure related documents |
| 9 | 01 passport-size photograph of the applicant |
| 10 | 01 picture of the house from the front side |
Screening Process
Once the application is submitted, a committee formed by the university will shortlist candidates on merit
Incomplete applications or applications containing false information will be rejected straightaway
After shortlisting the candidates, the committee will conduct interviews
Students that are awarded the scholarships will have to sign a deed on a stamp paper
Scholarships are not transferable to any other university
List of Universities Offering Ehsaas Scholarships
Below is a province-wise list of universities where you can avail Ehsaas Undergraduate Scholarships:
KPK
FATA University Kohat
Agriculture University Peshawar
Women University Mardan
UET Mardan
Women University Swabi
University of Swabi
IMS Peshawar
Islamia College Peshawar
UET Peshawar
University of Haripur
Khushal Khan Khattak University Karak
University of Lakki Marwat
Hazra University Mansehra
University of Peshawar
University of Chitral
University of Science & Technology Bannu
Shaheed Benazir Bhutto Women University Peshawar
Bacha Khan University
UoT Nowshehra
KUST Kohat
University of Buner
AUST Abbottabad
Khyber Medical Peshawar
Gomal University
Shaheed Benazir Bhutto University Shringal Dir Upper
Abdul Wali Khan University
University of Swat
University of Malakand
Punjab
University of Punjab Lahore
University of Education
University of Health Sciences
University of Sargodha
PMAS-Arid Agriculture University Rawalpindi
GCU Faisalabad
GCWU Faisalabad
UAF Faisalabad
Ghazi University D G khan
BZU Multan
Women University Multan
MNS UET Multan
MNS Agriculture University Multan
NFCEIT Multan
Nishtar Medical University Multan
IUB Bahawalpur
GSCWU Bahawalpur
Cholistan University of Veterinary and Animal Sciences Bahawalpur
Khwaja Fareed University (KFUEIT) Rahim Yar Khan
Faisalabad Medical University Faisalabad
Rawalpindi Women University Rawalpindi
University of Mianwali
University of Home Economics Lahore
Punjab Tianjin University of Technology Lahore
GCU Lahore
Government College Women University Sialkot
Information Technology University Lahore (ITU)
King Edward Medical University
Kinnaird College For Women Lahore
Lahore College for Women University (LCWU)
National College of Arts (NCA)
Fatima Jinnah Women University Rawalpindi
University of Okara
UET Taxila
University of Sahiwal
University of Gujrat
UET Lahore
Fatima Jinnah Medical University Lahore
Rawalpindi Medical University (RMU)
UVAS Lahore
PFID Lahore
University of Narowal
Islamabad
NUST
NUTEC
PIEAS-Islamabad
Quaid-E-Azam University
SZAB Medical University
COMSATS
Federal Urdu University of Arts , Science and Technology
Islamic International University (IIUI)
Institute of Space Technology
NDU
NUML
National University of Medical Sciences, Rawalpindi
Air University
Bahria University
Balochistan
University of Turbat
University of Loralai
Balochistan University of Information Technology, Engineering and Management Sciences(BUITEMS) Quetta
Bolan University of Medical and Health Sciences Quetta
University of Balochistan Quetta
UET Khuzdar
Lasbela University of Agriculture Water and Maring Sciences Uthal
Sardar Bahadur Khan Women University Quetta
Sindh
Liaquat University of Medical & Health Sciences Jamshoro
MUET Jamshoro
Peoples University of Medical and Health Science
NED Karachi
Shaheed Benazir Bhutto University of Veterinary And Animal Sciences Sakrand
SMI Karachi
The University of Sufism and Modern Sciences Bhitshah
University of Sindh Jamshoro
PAQSJIMS, Gambat
Jinnah Sindh Medical University Karachi
Government College University Hyderabad
The Shaikh Ayaz University Shikarpur
Benazir Bhutto Shaheed University of Technology and Skill Development (BBSUTSD) Khairpur Mirs
Dawood UET Karachi
QUEST Nawabshah
Shah Abdul Latif University Khairpur
The University of Karachi
Shaheed Mohtarma Benazir Bhutto Medical University Larkana
Dow University of Health Sciences Karachi
Institute of Business Administration Karachi
Shaheed Zulfiqar Ali Bhutto University of Law Karachi
Shaheed Benazir Bhutto University Benzirabad Nawabshah
Sindh Agriculture University Tandojam
Sukkur Institute of Business Administration
Benazir Bhutto Shaheed University Lyari Karachi
Azad Jammu and Kashmir
MUST Mirpur
AJKU Muzaffarabad
Women University Bagh
University of Poonch, Rawlakot
Kotli University Kotli
Gilgit-Baltistan
Karakorum International University Gilgit
University of Baltistan
Do you have any questions on how to apply for Ehsaas Undergraduate Scholarship? Let us know in the comments section