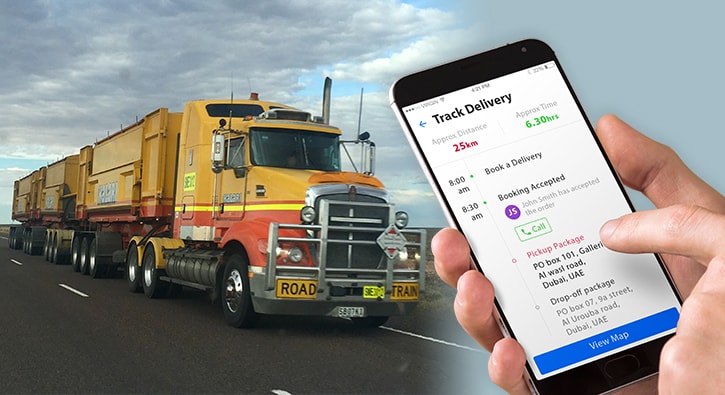 Now a day's people moving towards smart system where they want to find everything on one click. Small organizations face to find the heavy transport transfers their goods and manufactured materials etc. If they find the heavy transport they face the uncertainty the prices rates. Resultantly, they face the traveling goods issues and waste their times.
The quality of developed countries has a good infrastructure almost all of cities and towns connected through proper Structural roads and transport services. Those countries have a good economy they have a well transport companies. Therefore, to promote economy and demands, the service quality of the trucking should be high and proper. The major reason supplies the goods and daily usable things meet the end users limited by the poor services provided by the transporters. We need such a system user and transport companies connected through a reliable platform. Therefore we are promoting a mobile application that is reliable source to meet the necessary requirement end user and transport drivers.
The initiative of our Mobile Application creates such a platform for customer and transporter rely their basic needs and also create the authenticity between them. So we are introducing an idea of mobile application which will become up to the satisfaction of the end user and carrier. Customers can search the nearest delivery service according to their location of their needs. As well, customers also post their goods which can be viewed by transportation requirements. Additionally, transporters have option to update the travel plan well in advance making sure they carry the goods according to fulfill their needs. Our proposed mobile Application will capture the rating and find the creditability improving the quality of services among the end user and transporter. Our proposed platform will provide the transparent mood between end user and transporter according to the payment point of view and also will play the middle man role among them. After myth, our system will come on the satisfaction of the user and customer in the form of time saving rather than searching the truck on the roads and also we shall be able to cope the traffic problem on the roads.
Problem in Existing System:
The highly unorganized Pakistani trucking industry has made shipping goods for customers a tedious task. Problems in finding a good transporting network has caused goods movement through multiple stakeholders of the trucking industry. This has resulted in delay of loading, transporting and unloading of goods. Which further increases transportation cost to meet the cost demands of all the stakeholders in the network. Customers are forced to accept unfair pricing and hence the trucking community portrays a picture of bad quality of service and low customer satisfaction. On the other hand, truck owners / drivers are suppressed by the industries upper dominant layer. The major share of the amount paid by customers goes to trucking companies and brokers/agent, leaving a meager share to truck owners. Thereby being underpaid, truckers are forced to have unmaintained trucks causing frequent breakdowns and providing a poor quality of service.
Proposed Solution:
This application is a platform for customers and truck drivers to realize their needs. Customers can search for trucker drivers nearest to their location based on their needs. In addition, customers can also post their transport requirements which can be viewed by trucker drivers. Truck drivers have options to post a travel plan or update their travel plan well in advance making sure they run on full capacity.We are developing this application to remove middle man, broker or agents who take their commission. They play an important role in business continuity of the trucking industry. Our Team aims to create a platform for the customers and truckers. In our application Customers can search for the truckers nearest to their location.Customer can also post their transport requirements which can be viewed by truckers.Customers canpost their shipping information which can be viewed by truck owners.Truck owners can also update their travel plans which can be viewed by an interested customer. Users can transfer their goods or products from one place to another safely. This platform provides a transparent mode of communication between customers and truckers on finalizing prices and eliminating middlemen, who in reality would draw commissions. Easy trucking improves the quality of services. Our application is time saving rather than searching vehicle on the roads. Our application provides one to one communication for customers and truck drivers. This reduces time and effort. Easy trucking application is very easy to use. The application is user friendly such that customers can contact truck drivers and vice versa in a couple of steps. Easy trucking is more a forum to post and search for shipping information. The scope of our application can be extended to advertisement feeds, deals and truck sales as a revenue generation model to bare its operational cost. We developed Easy Trucking application which provides facility to customers and drivers. Customers can deliver their goods in low rates. Moreover, the goods will deliver on time. Customers and drivers can easily use this application. Easy trucking provides the good quality of services. Easy trucking requires internet, so that the customer and driver must be allowed to contact eachother.